Special Correspondent | Feb 11, 2019 4:23PM EST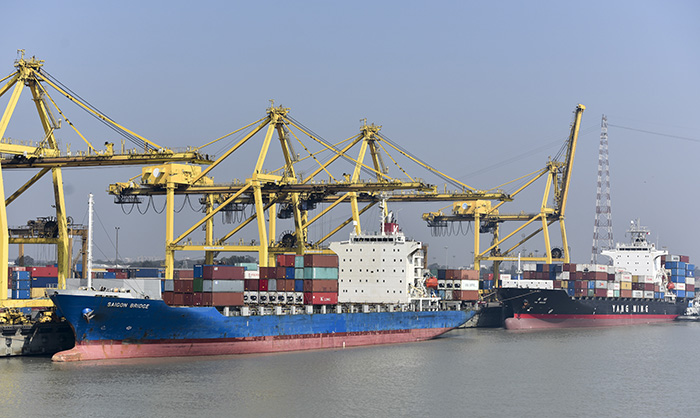 Ships carrying boxes bound for Pangaon will receive priority berthing at Chittagong port. Photo credit: Shutterstock.com.
The government of Bangladesh has begun offering 'priority berthing' to vessels carrying containers destined to Pangaon Container Terminal (PCT), located near the capital city of Dhaka.
The majority of Bangladesh's $52.9 billion in annual goods imports reaches Dhaka from Chittagong seaport by road, leaving state-run PCT's capacity underutilized despite being located much closer to a major population center. The government is eager to capitalize on the unused capacity at PCT, both to justify the 1.54 billion Bangladeshi taka (approximately $18.2 million) spent on developing the facility and to alleviate congestion on the crowded Dhaka-Chittagong highway, by which 83 percent of export-import containers are currently transported.
The Chittagong Port Authority (CPA) late last week notified customers that feeder and mainline container vessels will receive priority berthing at the country's busiest seaport provided they carry at least 150 TEU of import containers per voyage to PCT. "If several numbers of vessels reach the port at a time which are eligible for this priority berthing, the vessel which carries the highest number of PCT bound containers will be given priority," the port authority said.
CPA traffic director Enamul Karim told JOC.com some carriers have avoided PCT due to the higher fares charged by shipping agents but that a priority berthing at Chittagong would offset those costs.
"If vessels get priority berthing at Chittagong port due to carrying containers for PCT, they will be happy to carry Pangaon-bound containers," he said, adding that the priority berthing system would save vessels at least one day per voyage. "We are incentivizing the shipping agents to ensure utilization of the capacity of PCT."
The PCT, also operated by CPA, saw its container throughput fall 12 percent year over year to 22,507 TEU in 2018, prompting concern from both the government and the port authority. Rail transport, meanwhile, saw a 12 percent increase, and Chittagong's throughput rose 9 percent from the previous year.
The terminal has an annual handling capacity of 116,000 TEU and a storage capacity of 3,500 TEU. It has a 180-meter-long and 26-meter-wide jetty where two ships with a length of 70-75 meters can take berth at a time.
President of Exporters Association of Bangladesh (EAB) Abdus Salam Murshedy told JOC.com the incentive will lure shipping agents to carry containers for PCT. "Shippers in many occasions struggled to carry PCT-bound containers due to high fare[s] charged by shipping agents. We are hopeful that such complications will go now," he said.
"We will be able to carry industrial raw materials avoiding the highly congested Dhaka-Chittagong highway," Murshedy added.
Source: https://www.joc.com/port-news/asian-ports/port-chittagong/bangladesh-looks-bolster-flagging-dhaka-port_20190211.html